A supplemental insurance policy known as an umbrella insurance policy provides protection above and beyond the scope and restrictions of other policies. For scenarios involving personal liability, property damage, and injury, umbrella insurance may offer coverage.
How does an umbrella policy Works?
Extra liability insurance protection that goes above and beyond the insured's house, auto, or watercraft insurance limitations is provided by an umbrella insurance policy. It offers an extra measure of protection to those who run the possibility of facing legal action for injuries they inflict in accidents or property damage they cause to others. Additionally, it defends against invasions of privacy, slander, vandalism, and libel.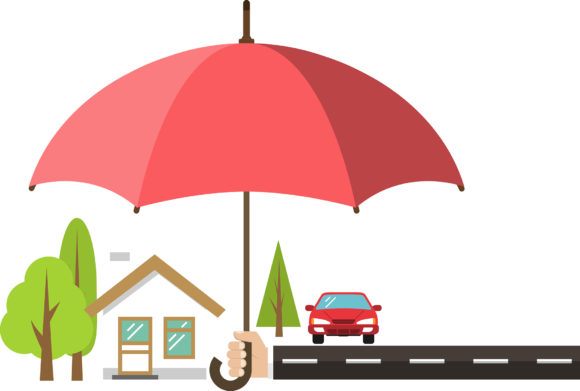 When the coverage limits of your homeowner's, auto, and boat insurance policies are reached, umbrella insurance may still offer coverage.
Umbrella insurance offers coverage for claims such as false arrest, libel, slander, and liability coverage on your own rental properties that may be excluded by other liability policies.
This coverage helps in two crucial ways to safeguard your money and your future:
First, if the coverage limits of your homeowner's, auto, and boat insurance policies are reached, your umbrella insurance policy may offer protection.
The second is that umbrella insurance offers protection for claims that other liability plans might not cover, such as those involving false arrest, defamation, and obligations on your rental properties.
Standard homeowners, vehicle, or watercraft insurance are required before purchasing umbrella insurance because the latter only becomes effective when the former has been exhausted.
What are the things covered under umbrella insurance?
Beyond the scope of your other insurance policies' limits or for claims that liability plans would not cover, umbrella insurance offers protection.
People who have substantial assets, potentially dangerous items, or who engage in activities that could raise their chance of being sued are candidates for umbrella insurance.
Benefit of Umbrella Insurance

Liability protection for: is typically included in umbrella insurance.
Injuries
Loss of property
certain court cases
Situations involving personal liability
Liability for physical injuries includes the expense of bodily harm to others. Examples include of the price of medical expenses or responsibility claims resulting from injuries brought on by:

A serious traffic accident for which you are responsible.
Your house visitor trips and falls.
In your yard, a neighbor's child trips and falls while playing.
Property damage liability – this protects you from financial loss if you accidentally damage someone else's tangible property due to an auto accident, a family member or pet misusing their property, etc.
War-related losses or damages brought on by asbestos exposure
Whether the insured is required to abide by a particular provision under the Worker's Compensation Law
If you are being investigated for causing someone harm,
If your personal treasure is hurt or damaged in any way
Benefits of purchasing an umbrella coverage include:
A progressive move in the insurance industry, an umbrella policy offers the policyholder an additional layer of security. Among the many important advantages are:
You receive coverage for claims like defamation, false arrest, libel, and other situations that are typically not covered by ordinary plans.

It helps you get ready sooner for any negative situations in the future.
You may relax because you won't have to worry about exceeding your claim limit.
The drop-down option strengthens and fills the coverage gaps in other policies.
gives you the responsibility to obtain form.
gives more thorough protection for different main insurance types.
The drop-down feature of this insurance helps to fill in coverage gaps.
Before obtaining an insurance, it is crucial to comprehend all of its characteristics, advantages, and exclusions. An umbrella insurance policy can be your best option if your insurance needs are particularly extensive.
Who needs umbrella insurance?
High net worth individuals who own a lot of assets—or extremely expensive assets—and are at a high risk of being sued may find the extra coverage offered by an umbrella insurance policy to be the most helpful. Small businesses also utilise umbrella insurance to protect themselves from potential financial losses brought on by claims.
If an umbrella insurance policy is obtained from the same insurer that supplied the initial vehicle, home, or watercraft insurance, the premium may be less expensive. For auto insurance, the base insurance coverage must range from $150,000 to $250,000 and for homeowners insurance, it must range from $250,000 to $300,000. This varies depending on the provider.
Excess umbrella insurance is another name for umbrella insurance. An umbrella policy assists in covering costs when a policyholder is sued for damages that are higher than the liability limitations of their homeowners' insurance, auto insurance, or other types of coverage. In other words, the umbrella insurance serves as a safety net in the event that the original policy's dollar maximum has been reached, protecting the insured party from having to use up savings and other assets.
Example of umbrella insurance
Think about the subsequent case to grasp how umbrella insurance might be beneficial. Many people may be hurt and there may be considerable vehicle damage if a driver passes a red light and accidently collides with another automobile.
The driver at fault may be liable for costs that exceed the insurance policy's coverage limitations if the cost of treating the injuries exceeds $500,000 and the cost of repairing the car is more than $50,000. The extra liability expenses above and beyond the limits of auto insurance coverage will be covered by an umbrella insurance policy.